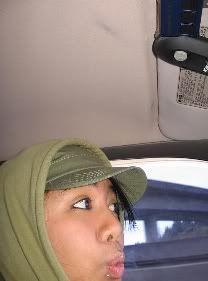 So a few days ago i was talking to
marifel
and she told me what John said about me during my confirmation on
monday
.
It went something along the lines of....
"
Marifel
, look at Kim......
She looks so Innocent....
BUT SHE'S NOT!"
Hahaha
.
whatta
asshole.i love him to death though.
Yesterday i was killing time and started looking at my backup files for my computer and i ran across old pictures from High School. All i can say is "oh god."
why didn't someone shoot me in the foot back then?
I was an obnoxious piece of shit.
Still am, but not so much.
This picture was from senior year of high school. God Lord. How i ever manage to
attract
a guy is beyond me.
I have class in an hour and a half. I'm in T's office
chillin
. I think
im
gonna go see if anyone wants to go get lunch.