Yesterday was a good day. It started out a little rough; only because no one wanted to go out to Seattle to see David with me, so i went out there by myself and met up with Veronica. I kinda hate walking around Seattle by myself when i'm not on the phone with anyone because i get creepy ass guys coming up to me and hitting on me. Shooot, ill pass dude.
But yeah. So i guess the venue was 21+... suckie, but David came out and we chatted for a little while, it was really nice. He also gave us free copies of the Video Premiere DVD. I love that guy, sucha sweetheart.
So on the way home I called up emelio; we were supposed to meet up back in town, but somethings happened which enabled him to do so. He's so cute when he's drunk and on the phone, he is super friendly and nice. haha. But yeah, i invited him to come with veronica, forrest, and me to the concert on Tuesday, i'm stoked.
Oh, and totally random, i think im gonna make this thing more of a picture blog. Im kinda excited :]
So while we're in Linus/David Neely mode... i'm leaving you with this picture that i found on my photobucket. This picture was from 2 summers (or so) ago, it was from the last time Linus came to Washington. There was a big feast and tons of Jammin out. It was awesome. I remember Jarrid kept nagging me about hanging out with him that day, but i ditched because of linus, haha. i was such a good girlfriend to him.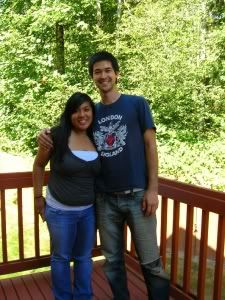 He's soooo tall.. I LOVE IT. and i look so young..... and tan. HA
Enjoy.